Saturday, October 18, 2008 - written by tidy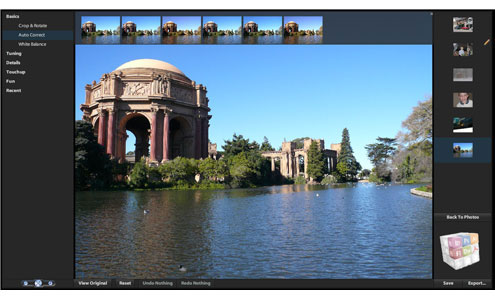 One thing I love about living in 2008 is that digital photography has become such a ubiquitous part of people's lives. Remember the days when digital photography was clunky and you had no real options to share or print or manipulate your photos? Software like Adobe Photoshop cost hundreds of dollars and your alternative was MS Paint.
Now we have digital photography storage and sharing services like Flickr, Facebook, and Picasa. And the nicest development has been an increase in cheap or free photo software that gives you the tools to customize, brush up, resize and touch up your photos. These free suites are surprisingly powerful and easy to use.
As a hobby point-and-shoot photographer I personally use Picasa, which I am highly satisfied with. But I heard that Adobe is now offering a free online-application version of Photoshop, the grandaddy and king of photo editing software. I had to check this out for myself. It's called Photoshop Express and can be accessed through your free Photoshop.com account. In addition to the editing, its also a photo sharing suite which integrates with third-party sites and applications like Facebook.
So how's it measure up?
First things first– the thing takes a very long time to load. A very long time. Once it starts up, most operations move along reasonably well, but the long initial start time is a pain when you have a lot of photos to work on.
However, once you've gotten through the slog of loading, you will find a well-designed interface with some surprisingly robust tools. Again, Adobe knows what they're doing with photo editing, so it's nice to see them bringing that standard of quality to a free online tool. However, there are some bugs, and quirks that pop up from time to time that are an annoyance and drag on productivity. There are also some missing features; no keyword search/tagging ability, no printing options (!) and no support for pictures higher than 12 megapixels.
Overall, I'm very pleased with the direction Adobe is moving in and will definitely keep my eye on how Photoshop Express continus to refine itself. It's still a very early release, but it has a lot of potential.